Hi everybody, Happy Holidays to all of our readers! December has had us busy, like never before. We had a chance to work on some really fun projects and meet some interesting people. With all of this work, we yet have to go gift shopping, tree decorating, caroling, and open all those holiday cards! ...we go caroling, ...ok, maybe not.
Important: Our office will be closed December 22nd thru January 6th, 2005.
"Twoj Dom" hits the stands Our premium Polish magazine "Twoj Dom" hit the newsstands this past weekend. The reviews so far are GREAT! Even if you cannot read Polish, you can enjoy its clean layout, fantastic photography, and that new-magazine smell. Make sure to pick one up (they can be found at any newsstand or store which carries Polish media).
The Santa Campaign has generated a lot of talk around town. This friendly character is the star of this year's ethnic holiday campaign for the Polish & Slavic Federal Credit Union. Santa appeared in company newsletters, posters, banners, website, and this weekend, you can see him on Polish television. Here is a sneak peak for our readers: psfcu 2004. Don't forget to check out our other television projects at this link.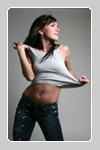 Ereka Vetrini stops by our studio for a very sexy shoot. The young bombshell will be featured in an upcoming Steppin' Out magazine cover story. Ereka, who was the star of the Apprentice, now appears daily on the Tony Danza Show. Check her out in our Photography Portfolio.
Hot Bartenders steam up our lens. Bars and Clubs magazine is celebrating its 1-year (Congratulations guys). They are featuring nine sexy bartenders on their cover. Bluberries Advertising shot the cover for this special issue... and let us tell you, things got hot! But don't take our word for it, just pick up the January issue at your local pub or club and see for yourself. (available Jan 1st)
Bluberries Domains can work for you Check out our Domains for Sale category. We have over 100 great domain names, and we are selling. Now you can generate traffic, make important impressions, and promote your business through our domains. Ranging from $5 to $50 per month, we can place your web-banner advertisement on any of our ideal domains. Drop us an e-mail for more information.

Specials (end 01.15.05)
5000 Full Color Jumbo Postcards* Print Special for $500
printers specs: 6"x8" 12pt 4/4 UV coated

* Must mention our blue-letter to receive this special offer. Call for more info (ends 01.15.05)
-To be removed from our e-letter, click here.